YVES MARCHAND & ROMAIN MEFFRE : GUNKANJIMA
Par Louis Philia le jeudi, juin 20 2013, 23:46 - Miscellaneous - Lien permanent
On June 20th, 2013 great photographers duet Yves Marchand & Romain Meffre held a meeting and signing session at Artazart design bookstore for the release of their second book Gunkanjima.






ISBN : 978-3-86930-509-7
UPC : 9783869305097
Publisher : Steidl
Country : Germany
Release date : 2013/06/20
Price : 65 EUR

(References are for the first pressing of French version.)


Unfortunately I was not able to attend this event. But fortunately, thanks to the team of this extraordinary bookstore, I was successful in getting a copy signed by the artists!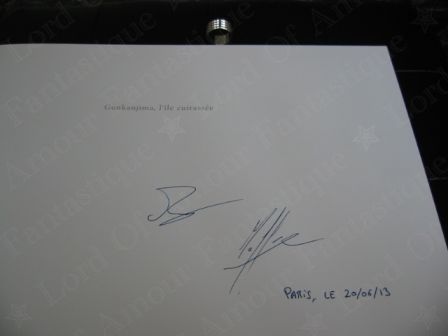 Thank you Yves Marchand & Romain Meffre for this fabulous work, thank you Artazart for organizing the event !

This is a gorgeous piece to add to my personally dedicated copy of successful Marchand & Meffre's The Ruins of Detroit signed on June 16th, 2012 at Polka Galerie ^_^