ATOM™ : MUSTER
Par Louis Philia le lundi, septembre 14 2009, 18:10 - ATOM™ - Lien permanent
"MUSTER", THE GERMAN WORD FOR BOTH "EXAMPLE/SAMPLE" OR "PATTERN", WELCOMES US WITH AN ARTWORK THAT SHOWS BAROQUE GARDEN ORNAMENTS, PHOTOGRAPHED FROM ORBIT.

THIS 50 MINUTE PIECE OF PERMANENTLY EVOLVING STRUCTURE AND SOUND IS A COMPLEX, WELL-THOUGHT AND THOROUGHLY CRAFTED COMPOSITION WHICH IS IN FACT INSPIRED BY THE PHENOMENON OF THE ORNAMENT ITSELF. "MUSTER" IN THIS SENSE CAN BE UNDERSTOOD AS A LARGE, MEANDERING ORNAMENTAL PATTERN OR RHYTHMICAL FIGURE THAT, MOST OF ALL, DOES NOT REFER TO, OR REPRODUCE ANY MUSICAL STRUCTURE HEARD SO FAR. ON "MUSTER" YOU WON'T FIND MELODIES, HARMONIES, WORDS, A MESSAGE OR REFERENCE TO EXISTING MUSICAL STYLES, SINCE THE ACCENT WAS LAID UPON THE DEVELOPMENT OF THE MUSICAL PARTICLE (ONE MAY CALL IT "ATOM"

) ITSELF: RHYTHM AND ITS SONIC ELEMENTS, BEING IN PERMANENT FLOW. AT THE SAME TIME THIS COMPLEX BLOCK OF SONIC INFORMATION MAY SOUND "ORBITAL" TO US - A MUSICAL STRUCTURE AS CONCEIVED BY A BEING NOT FROM THIS PLANET: AN ALIEN OBSERVER.

WHILE THIS WORK CAN BE CONSIDERED AS A LEAP FORWARD IN ATOMTM'S CREATION, IT MAY RESEMBLE SOME OF HIS EARLIER WORKS, SUCH AS "SCHNITTSTELLE", "THE DISK ORCHESTRA", "BUND DEUTSCHER PROGRAMMIERER" OR "CMYK", JUST TO NAME A FEW, WHILE IT CERTAINLY SHOWS THAT THOSE WORKS WHERE JUST A STEP TOWARDS A FAR LARGER PICTURE, WHICH ATOMTM HAS BEGUN TO PAINT NOW. MATURED AS A COMPOSER, ATOMTM MAY INDEED QUOTE HIMSELF ON THIS MASTERPIECE, WHILE HE STANDS FAIRLY ALONE IN A VAST DESERT CALLED "ELECTRONIC MUSIC".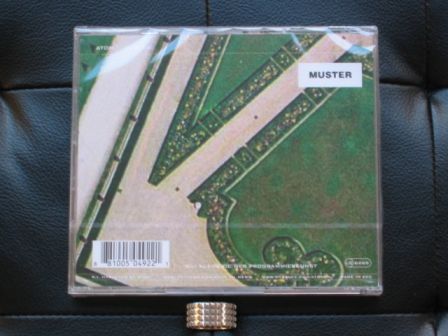 Catalog number : RI 065
UPC : 881005049221
Label : Rather Interesting
Country : EEC
Release date : 2009/09/14