VERSAILLES : JUBILEE PROMO CD-R
Par Louis Philia le mardi, décembre 1 2009, 17:55 - Versailles Philharmonic Quintet - Lien permanent
Promotional CD-R of Versailles surfaced on December 2009, announcing their new - and first major - album JUBILEE.
It was distributed to some radios and medias in Japan to promote Versailles forthcoming album.

It contains the twelve tracks and is in CD-Text encoded with titles.

It has no catalog number.
The back side of the insert has informations about both editions of JUBILEE and some notes.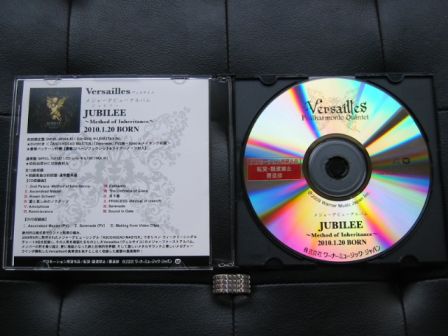 Catalog number : none
UPC : none
Label : Warner Music
Country : Japan
Release date : 2009/12